The most complete parasite protection, all in one easy, monthly application!
Cats are the masters of multiparasitism, with their natural behaviours and instincts placing them at high risk of acquiring internal and external parasites. For example, roaming exposes cats to fleas, ticks and intestinal parasite eggs and larvae shed by other pets and wildlife; grooming behaviour can result in ingestion of fleas containing flea tapeworm larvae; and hunting exposes cats to roundworm, lungworm and tapeworms carried by their prey.  It is important to remember that hunting in cats occurs even when they are not hungry, meaning even the most well-fed domestic cat can express this behaviour, placing them at risk of worms.  For this reason, comprehensive deworming, including against tapeworm, is important for all cats.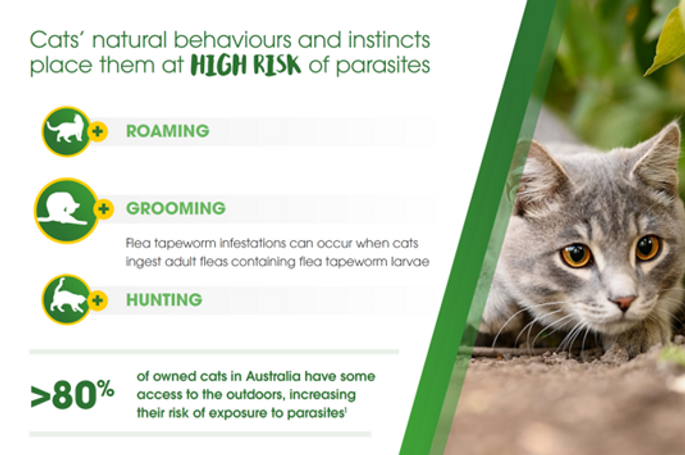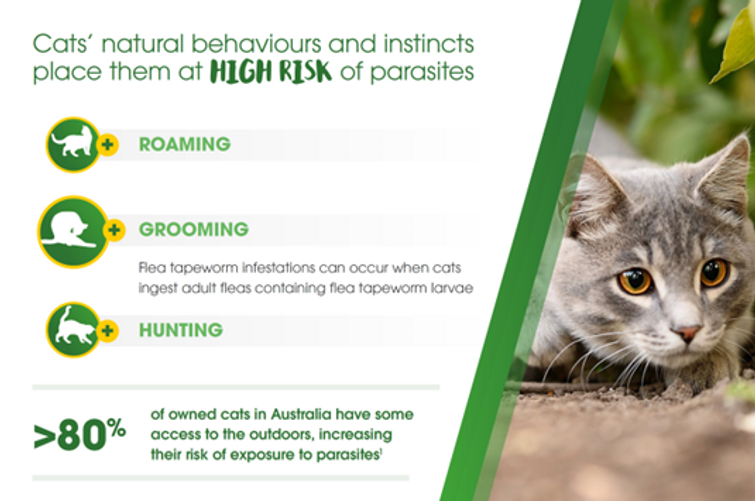 More than 80% of owned cats in Australia have some access to the outdoors, increasing their risk of exposure to parasites and infectious diseases.
1 However, parasites aren't only a risk for outdoor cats. Indoor cats may be exposed due to rodents or other intermediate/paratenic hosts entering the home, environmentally resilient worm eggs being carried in on shoes, heartworm-infected mosquitoes entering the home, or other pets bringing parasites into the home environment.  In fact, in one study, 20% of cats diagnosed with intestinal worms were described by their owners as "indoor only".2
Broad-spectrum control of the important internal and external parasites of cats has traditionally required the use of multiple products – potentially with different dosing intervals and methods of administration. This can be confusing for cat owners and may reduce compliance, so much so that a study of Australian cat owners found only 16% were compliant with best practice recommendations of monthly deworming.3
NexGard SPECTRA Spot-On for Cats helps address these challenges - it is Australia's first and only all-in-one parasiticide for cats, providing protection against fleas, ticks, mites, heartworm, lungworm and intestinal worms (including tapeworms).
NexGard SPECTRA® Spot-On for Cats' unique combination of three active ingredients (esafoxolaner, eprinomectin and praziquantel) provides the most complete protection available against both external and internal parasites, all in one easy, monthly application. The product is applied topically to the skin with an innovative, easy-to-use applicator to reduce stress and mess for cats and their owners. It can be used on all cats from 8 weeks of age and weighing at least 0.8 kg, including breeding, pregnant and lactating queens.
Parasite protection is not just about keeping our pets healthy.  Cat fleas can transmit zoonotic pathogens and parasites, and roundworms and hookworms can infect and cause disease in people. The monthly dosing regimen of NexGard SPECTRA® aligns perfectly with the recommendations from the Australian Companion Animal Zoonoses Guidelines which recommend monthly deworming and year-round flea control for all cats to help reduce this risk.4
Find your nearest Just For Pets independent retailer
or
 References
1.    Johnston, L., et al (2017) Demographics, lifestyle and veterinary care of cats in Australia and New Zealand. J Feline Med Surg, 1-7.
2.    Coati, N. et al (2003) Recent investigation on the prevalence of gastrointestinal nematodes in cats from France and Germany. Parasitol Res. 90, S146-S147.
3.    Palmer C.S., et al (2010) Intestinal parasites of dogs and cats in Australia: the veterinarian's perspective and pet owner awareness. Vet J. 183(3), 358-361.
4.    Australian Companion Animal Zoonoses Advisory Panel (2021) Companion Animal Zoonoses Guidelines.

See product label for full claim details and directions for use.